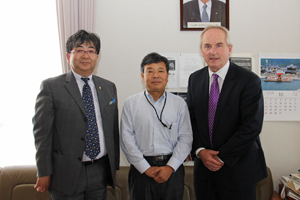 For the creation of new global standards for the outstanding extra virgin olive oil, The Olive Oil Sommelier Association of JAPAN (OSAJ) cooperates with the Australia Olive Association(AOA), the California Olive Oil Committee(COOC) and several superior olive oil producers in Spain, Italy and other countries.
Recently, the OSAJ invited Mr. Paul Miller, President of the Australian Olive Association(AOA) to visit Shodoshima island, which is a place of production of the olive representing Japan, and had a productive meetng with Mr. Shiota, Mayor of Shodoshima town.
In Japan, although there is an only old regulation by the JAS method in a country level and it does not have even the international standard "extra virgin" so far, the domestic olive oil products representing by the Shodoshima production improved its quality remarkable in recent years.
It is obvious that the domestic producers in Japan need to be heightening their brand name and raising consumers' reliability and commitment over quality. it is considered extremely meaningful that the standard which proves the outstanding quality is based on the standard produced by such new technology and international cooperation.
The meeting with Mayor Shiota extends the significance and the effectiveness of a new world standard to this unique production site in Japan, and it is considered that it would be a big opportunity to improve the brand name and reliability of olive oil from Shodoshima island.
The summary of the meeting was also published at the mayor's blog "a mayor's diary of "the cicada of Le Huitieme Jour"" by Mr. Shiota.
The 722nd issue of the blog on October 5, 2012 as linked; http://www.town.shodoshima.lg.jp/oshirase/youkame-semi.html
While the OSAJ is the association only commit to the quality of olive oil and for the consumer, it is being wished that our purpose and promotion would be the same as a thought of the superior producers in Shodoshima island and many producers in the world who aims at newly developing effective quality standards.