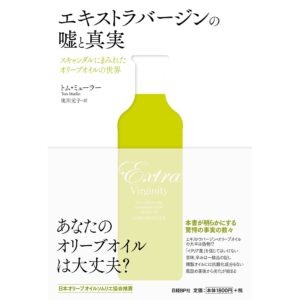 Tom Mueller's remarkable book "EXTRA VIRGINITY" – Japanese edition released on November 22nd.
This Japanese language edition was published by one of the major publishing company – Nikkei BP publishing and now available at AMAZON and Nikkei BP Online Bookstore.
The OSAJ had been involved for the translation works, such as the technical words checking and Chairman Tada wrote the Postnote of the book.
The link for the book selling website is as follows;
Nikkei BP Online Shop;  http://ec.nikkeibp.co.jp/item/books/P49280.html
Amazon Online bookstore ; http://www.amazon.co.jp/dp/482224928X/